For three generations, Elson Sanitary has been the most dedicated and reliable waste disposal company serving Ford and Iroquois Counties. We're a family run business and committed to delivering the highest level of service.  We're fully insured, licensed and bonded. We highly value your business!
If you're new to the area or a first-time customer,
call today to take advantage of our New Customer Special.
We service the communities of Paxton, Loda, Ludlow, Bayles Lake and Lake Iroquois. We provide residential, commercial and on-demand dumpster services. For questions, comments or to schedule service, please Call Us at (217) 379-2712.
Click Here to pay your bill online

---
Services
We offer curbside and alley pickup.  Alley pickup offered only in established alley-pickup route locations.
We offer low volume rates for seniors. Elson's now offers toter service for your convenience.
We will accommodate seasonal pickup for those who spend extended parts of the year living elsewhere.
All trash must be canned, boxed, bagged, or bundled.  No loose trash will be picked up.  Please no cans, boxes, bags, or totes over 50 lbs.  If it's too heavy for one man to lift, it will not be taken.  Please see list of items we do NOT take.
Commercial Business: 
We will work with the needs of your business, offering pickup services as frequently as needed.
Tote and dumpster service is available to business customers.
Your business can buy or rent a dumpster at reasonable rates.
---
Dumpster Service:
Elson's Sanitary will deliver and pick up a dumpster for single use, project or construction period or whatever your needs may be.  Rates for dumpsters of various size are as follows and prices are per-dump:
2 Yard dumpster with lid/ wheeled (3 FT LONG X 6 FT WIDE X 4 FT DEEP)
3 Yard dumpster with lid/ wheeled (5 FT LONG X 6 FT WIDE X 4 FT DEEP)
4 Yard dumpster with lid/ wheeled (6 FT LONG X 6 FT WIDE X 4 FT DEEP)
6 Yard dumpster with lid/ stationary (7 ½ FT LONG X 6 FT WIDE X 4 FT DEEP)
---
Elson's Sanitary now offers roll off dumpster service.  View this page for our sizes.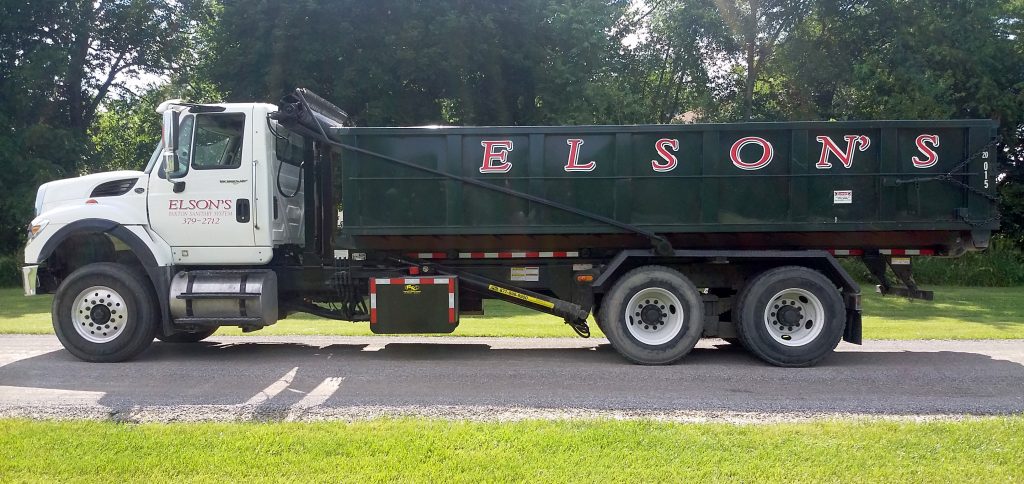 MEMBER